Pressure Valves
The 800-CPS, Controlled Purge System, is designed to monitor and control positive pressure within any of our glove boxes, isolators, or desiccators.
The unit features a programmable logic controller that continuously displays the chamber pressure as well as the desired "set point." Once you have entered your desired set point, (from 0.0 to +2.0" WC or 0 to +500 Pa), the controller will automatically maintain that point.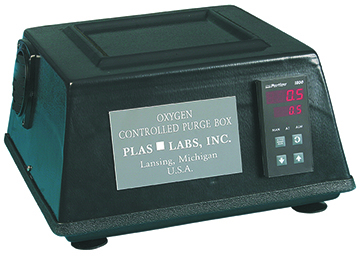 800-CPS Controlled Purge System
HW3136, Pressure Relief Valve (red)
These relief valves are used on all 830-Series Glove Boxes. The valve "Pops" at 3" water column.

HW3136 pressure relieve valve
shown with 830-HEPA HEPA
canister.
The Model 800-PRV Series valves are useful for eliminating unwanted positive pressure build up in any of Plas-Labs glove boxes, isolators, or desiccators. The Acrylic relief valve features a 1/8 NPT inlet and outlet ports. Exhausted air can be directed away from operators by using a hose connection at the outlet port.
Buy Now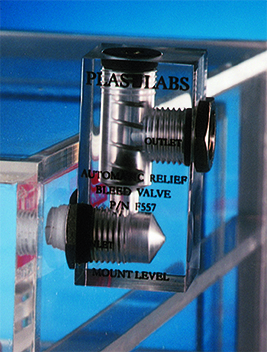 800-PRV, Pressure Relief Valve