Bag-In / Bag-Out Port
800-BIBO/PORT, Bag-In / Bag-Out port includes a 14" x 48" long ArmorFlex TM polypropylene bag for safe removal of HEPA filters.
Used HEPA filters are always contained and are never exposed outside of the containment isolator. Bag port is 12" OD (304mm OD) clear acrylic with two machined grooves for bag placement.
The 800-BIBO/PORT is sold as a facotry mounted bag-in / bag-out port only.
Optional Accessories:
800-BIBO/BAGS, ArmorFlexTM replacement bags. 14" OD x 48" long with O-Rings. Sold by the dozen (12)
Buy Now

800-BIBO/CRIMPER, Bag CrimpLoc Kit. Includes: CrimpLoc tool, carrying case, cutting tool, cable ties, and CrimpLoc procedure. See below for crimping procedure.
Buy Now

800-BIBO/CRIMPS, Red Closure Crimps for 14" OD ArmorFlexTM bags. (100 per package.)
Buy Now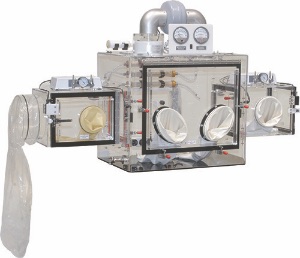 840-PH-10 with optional 800-BIBO/PORT
800-BIBO/CRIMPER tool procedure
The 800-BIBO/CRIMPER allows you to safely and securely remove, and seal, used HEPA filters.