Oxygen Analyzers
800-DOI, Digital Oxygen Analyzer This portable trace oxygen analyzer features three range autoranging (0-100/1,000/10,000 ppm), and advanced electrochemical oxygen sensor, and built-in temperature compensation. Oxygen values are continually monitored and displayed on an easy to read 0.4" high x 4.5" digit liquid crystal display (LCD). The analyzer is equipped with three oxygen alarm relays, one status alarm, audible alarm, three front panel LEDs for visual indication of an alarm condition, and two analog outputs (4-20 mADC and 0-2 VDC) for use with recorders or data-loggers. The 800-DOI can be housed within the glove box or mounted externally.

Outside Dimensions: 6.5" wide x 6.2" deep x 10.9" high
Powder Requirements: 115/230 VAC; 50-60 Hz.
Warranty: Three (3) year electrical; one (1) year sensor
Accuracy: ±1% of full scale
Resolution: 0.1 ppm for ranges < 100 ppm
1.0 ppm for ranges > 100 ppm
Operating Temperature: 32 to 133°F (0-50°C)
Gas Connections: 1/4" stainless steel compression fittings
Optional Pump: 0.5-1.0 LMP sampling
Relays: SPDT rated at 10 amps@115/230 VAC and 30 VDC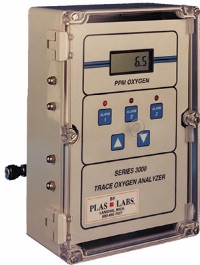 800-DOI, Digital Trace Oxygen Analyzer
The 800-O2/Monitor,Oxygen Monitor, is an economically priced percent oxygen measuring system equipped with a standard measuring range of 0-100%. Available as an option, are dual 4-20 mADC recorder outputs that have been scaled over 0-100% and 0-25%. When the 800-O2/Monitor is equipped with the optional analog outputs, the user can select either scaled output by using one of two output jacks located at the base of the instrument.
The 800-O2/Monitor features an extended life, ambient temperature electrochemical sensor that is extremely resistant to a variety of acid gases including carbon dioxide. The front panel has an easy to read, 3-1/2 digit liquid crystal display. Input power to the 800-O2/Monitor is 115/230 VAC, 50-60 Hz. The OXY-SEN can be wall/panel mounted or used as a bench-top device.
The 800-O2/Monitor was designed primarily for applications where the user prefers to mount the gas diffusion end of the sensor through a chamber or glove box.
For gas tight integrity, the extended-life sensor is equipped with an "O" ring that helps to form a gastight seal. One advantage of using a threaded sensor is that it eliminates the need to use sample pumps, air driven aspirators, etc. to provide sample to the sensor. An optional, flow through sensor housing is available for applications where external sampling is required.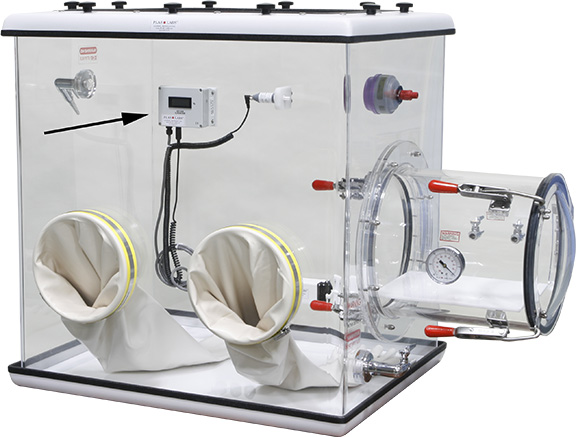 830-ABC glove box with 800-O2/Monitor
The 800-OA, Oxygen Analyzer, measures both the percent concentration of oxygen in the air as well as the parts per million (PPM or Mg/L) dissolved oxygen in water. It has a range of 0-100% concentration and 0-100.00 parts per million dissolved oxygen.
The galvanic sensor is totally sealed, requiring no maintenance such as membrane and filling solution changes. The typical life of the sensor is greater than twelve (12) months. The sensor is temperature compensated to maintain accuracy for air calibration.
The 800-OA is very easy to operate, designed with the non-technical user in mind. It's sold in a kit, complete with meter, the standard sensor with a five foot cable length, carrying case, and instructions.

Specifications
Range: Dissolved Oxygen: 0-100.0 PPM
Concentration in air: 0-100%

Accuracy: DO: ±0.25 ppm / Air: ±1%

Precise: ±0.1%

Hysteresis: Non-existent

Response Time: 90% of final reading in 30 seconds

Zero: True zero in the absence of oxygen

Pressure: 25 psi maximum, 60 ft. depth in water

Switch: Off - % - PPM

Display: 1/2" LCD

Size: 6.0" long x 1.55" wide x 3.70" high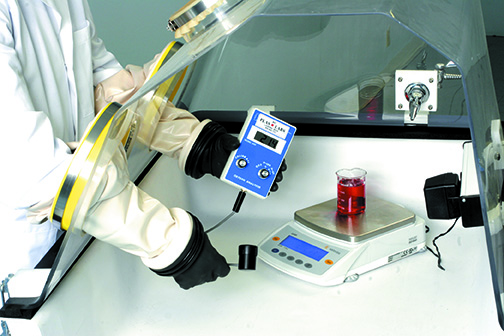 800-OA, Hand-held Oxygen Analyzer