Cable Pass-Through
Numerous systems are available for gaining access into any glove box or isolator. Some of these can be set up so as not to disturb the interior atmosphere of the chamber.
800-BLANK/P BLANKING PLATE PORT. Useful for attaching special cables and plugs. This kit includes a blank aluminum plate, fastening stainless steel nuts, bolts, and sealant. The blank plate itself is ready for machining as necessary by the end user. The hole cut out is 6" x 3" (152 x 76 mm) and the blank plate is 4.5" x 7.5" (190 x 114 mm). Custom sizes are available.
800-CMPTR Computer Interface Package permits interface connection between internal devices and your external computer. Kit includes stress relief plates, shielded computer cable (8 feet), stainless steel fasteners, and RS-232 connectors. NOTE: Other connectors can be supplied.

NOTE: Blanking Plate package and Computer Interface package are factory intalled on new PLAS-LABS' glove boxes.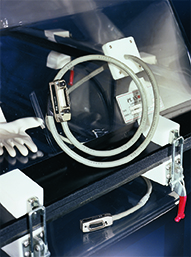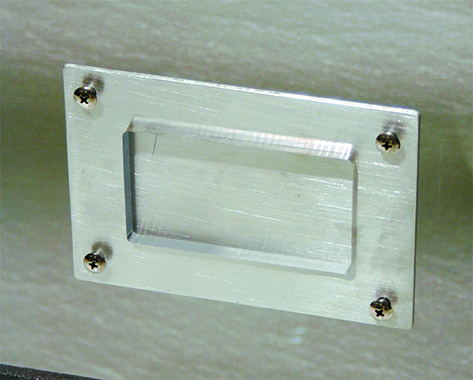 800-CMPTR, Computer 800-BLANK/P/SP, Blanking Plate
Interace package.